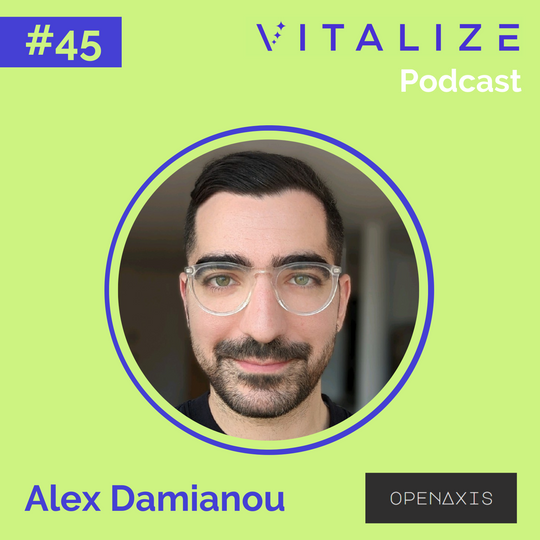 Podcast
A Serendipitous Path to Democratizing Data Storytelling, with Alex Damianou of OpenAxis | Future of Work
Justin Gordon talks with Alex Damianou, Founder and CEO of OpenAxis, a company that's simplifying and democratizing the data storytelling process.
Justin Gordon (@justingordon212) talks with Alex Damianou (@alex_damianou), Founder and CEO of OpenAxis, a company that's simplifying and democratizing the data storytelling process.
Alex is a multilingual political economist & entrepreneur trying to figure out how the world works. After a brief stint at the United Nations and a failed attempt at a pro soccer career, he went abroad and spent about five years conducting on-the-ground economic research and policy consulting across several emerging markets in Africa & the Middle East. Before returning to the US, he then took on the research & strategy lead for a new $20bn smart city and the world's tallest tower.
Now, as a founder, he tries to tackle socio-economic challenges. After starting a macro/geopolitical advisory, he joined Andrew Yang's 2020 Presidential campaign as his national policy director and foreign policy advisor. Today he's focused on democratizing data via OpenAxis, a Vitalize Angels portfolio company.
Listen on Spotify
Listen on Apple Podcasts
Listen on Google Podcasts
Website: Open Axis
LinkedIn: linkedin.com/in/adamianou/
Twitter: @alex_damianou
Instagram: instagram.com/openaxishq/
Show Notes
OpenAxis as a data storytelling platform
How society's poor data literacy drove Alex to start OpenAxis
How Alex serendipitously got involved with Andrew Yang's presidential campaign
Alex's time working on the Smart Cities project in Saudi Arabia
The ideal co-founder combo of complementary skillsets and shared values
OpenAxis' go to market strategy
Challenges within customer discovery and onboarding
The community-building aspect of OpenAxis
How OpenAxis' big vision fits into the Future of Work
The reality of being a first-time tech startup founder
More About the Show
The VITALIZE Podcast, a show by VITALIZE Venture Capital (a seed-stage venture capital firm and pre-seed 400+ member angel community open to everyone), dives deep into the world of startup investing and the future of work.
Hosted by Justin Gordon, the Director of Marketing at VITALIZE Venture Capital, The VITALIZE Podcast features interviews with a variety of VCs, angel investors, and founders, with a particular focus on the future of work.
Written by