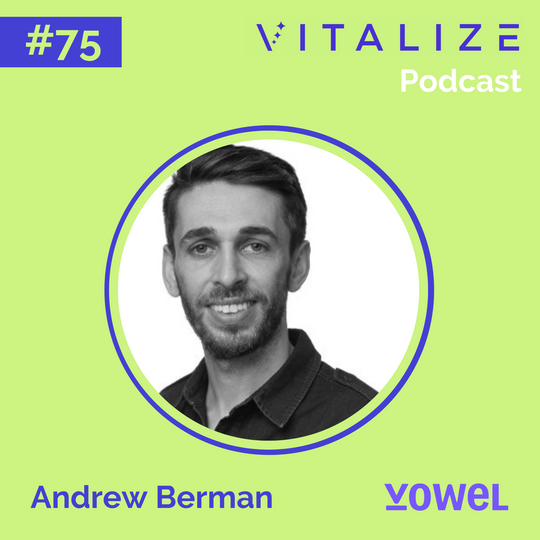 Podcast
Growing Organically via Twitter, Building Remote-First Company Culture, and Taking on Legacy Brands, with Vowel's CEO and Co-Founder Andrew Berman
Justin Gordon talks with Andrew Berman, Co-Founder and CEO of Vowel, the world's first complete meeting solution designed to make every meeting more inclusive and worthwhile – before, during, and after.
Justin Gordon (@justingordon212) talks with Andrew Berman (@berman66), Co-Founder and CEO of Vowel, the world's first complete meeting solution designed to make every meeting more inclusive and worthwhile – before, during, and after. Vowel is a collaboration platform that makes meetings searchable, shareable centers of knowledge for your business. By redefining what data capture is capable of, they are optimizing the potential of every team.
They are a remote-first company whose 20+ employees span four continents. Their team is made up of engineers, designers, inventors, entrepreneurs and security experts – from leading organizations like Google, Bridgewater, Nanit, Airbnb, Casper, Recombine and others. They're building both an inclusive product and an inclusive team that celebrates diverse cultures and backgrounds.
Andrew's inspiration is to apply new technology to build products that can touch millions of people in ways that were impossible before. He is also the founder of Nanit, the first camera to track human behavior (the leading baby monitor), an experienced investor from seed to LBO stages (Silicon Valley, NY and other markets), and an active and experienced angel investor (with investments in SaaS, Security, Healthcare, Consumer and CV/AI).
Listen on Spotify
Listen on Apple Podcasts
Listen on Google Podcasts
Website: Vowel
LinkedIn: linkedin.com/in/aberman/
Twitter: @berman66

Use coupon code: JUSTGOGRIND for 3 months free of unlimited seats on Vowel's
Pro plan (monthly only)!
Show Notes
How vowel is creating instant searchable, shareable knowledge through a modern video conferencing tool
Andy's journey to founding Vowel
How the idea for Vowel stemmed from Nanit's pain points as a distributed team
Early distribution and organic growth through Twitter
How Vowel's original use-cases have expanded naturally and leaning into user-led product development
Giving their users a 10x improved media experience through their next generation video platform
The challenges of building Vowel
Recruiting the original founding team
Building remote-first company culture
The fundraising process and Vowel's powerful cap table of operator- angel investors
How to vet investors
Their B2B growth strategy
Developing their freemium business model
How they view competition and taking on legacy brands
Learnings as a multi-time founder and former VC
What motivates Andy to challenge the status quo and build innovative companies
Andy's thoughts on the future of work and running remote teams
Snagging the vowel.com domain name
More About the Show
The VITALIZE Podcast, a show by VITALIZE Venture Capital (a seed-stage venture capital firm and pre-seed 400+ member angel community open to everyone), dives deep into the world of startup investing and the future of work.
Hosted by Justin Gordon, the Director of Marketing at VITALIZE Venture Capital, The VITALIZE Podcast features interviews with a variety of VCs, angel investors, and founders, with a particular focus on the future of work.
Written by