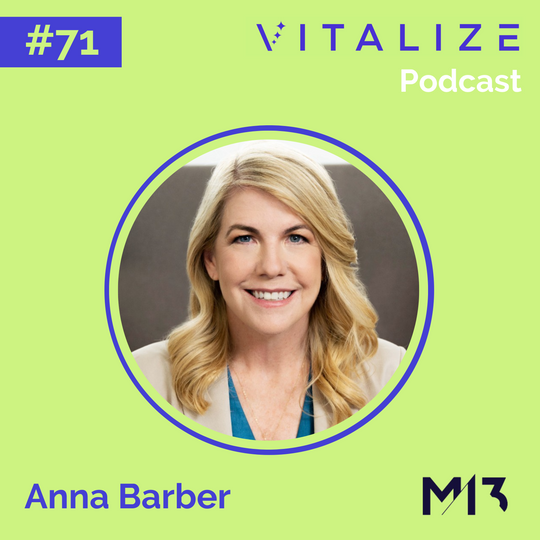 Podcast
Propelling Founders to Success, Gen Z's Impact on the Future of Work, and Being a Lifelong Learner, with Anna Barber of M13
Justin Gordon talks with Anna Barber, partner at M13, a venture firm accelerating businesses in the future of consumer behavior with four pillars: Health, Money, Work and Commerce.
Justin Gordon (@justingordon212) talks with Anna Barber (@annawbarber), partner at M13, a venture firm accelerating businesses in the future of consumer behavior with four pillars: Health, Money, Work and Commerce.
M13 is building a team of industry-leading operating executives to help founders make better decisions and win in their category. They believe founders deserve an investor who propels them on their mission of transforming an idea into a successful company, while staying out of their way. This is why they are building a Venture Engine, a full-service venture firm that provides the right people, platform, and partnerships for founding teams to build high-velocity businesses. M13 injects capital to fuel high-growth, while helping founding teams fill gaps in their businesses through their Propulsion Team, which provides strategic counsel, operational expertise, and a constellation of talent, experts, and resources to accelerate growth. Where they see whitespace in an industry, their Launchpad develops the right founding teams, products, and practices to incubate and launch an idea from inception.
An investing partner at M13, Anna is focused on Series A and seed. Previously, she was the managing director of Techstars LA and also a partner in The Fund LA. A certified executive coach, Anna has been a corporate lawyer, McKinsey consultant, product exec, talent manager, film producer, round-the-world traveler and outdoor adventurer. As an entrepreneur, she has been a founder, co-founder and early employee at e-commerce, media and ed tech startups. She serves on the Advisory Board of PledgeLA and is a member of AllRaise.
Listen on Spotify
Listen on Apple Podcasts
Listen on Google Podcasts
Website: M13
LinkedIn: linkedin.com/in/annawbarber/
Twitter: @annawbarber
Show Notes
M13's investment focus
Anna's path to becoming a partner at M13
The learning process and adjustment from investing at pre-seed and early stage to Series A
How M13's studio arm, Launchpad, supports their core investing strategy
M13's structure and Launchpad's unique incubation strategy
Areas Anna is excited about investing in and some of her recent investments (including AllVoices, Northstar and WeeCare)
Anna's reflections on tech for working mothers
Anna's insights on how Gen Z trends will affect the future of work and commerce
How Anna approaches supporting founders
The M13 team's Propulsion model of portfolio support
Anna's experience creating community and inclusion through The Fund LA and Pledge LA and LA Tech Week
Evaluating founders for Series A investments at M13
Anna's fascinating Air Guitar era
How Anna embodies her mom's fierceness
More About the Show
The VITALIZE Podcast, a show by VITALIZE Venture Capital (a seed-stage venture capital firm and pre-seed 400+ member angel community open to everyone), dives deep into the world of startup investing and the future of work.
Hosted by Justin Gordon, the Director of Marketing at VITALIZE Venture Capital, The VITALIZE Podcast features interviews with a variety of VCs, angel investors, and founders, with a particular focus on the future of work.
Written by