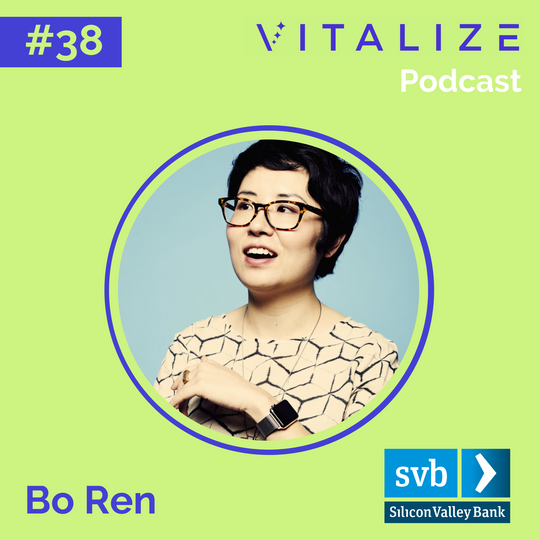 Podcast
Angel Investing: Manifestation Mindset and the Intersection of Grit and Ambition, with Bo Ren of Silicon Valley Bank
Justin Gordon talks with Bo Ren, Director of Early Stage Startups at Silicon Valley Bank. Bo is a liberal arts thinker, PM turned investor, and incubation partner.
Justin Gordon (@justingordon212) talks with Bo Ren (@Bosefina), Director of Early Stage Startups at Silicon Valley Bank. Bo is a liberal arts thinker, PM turned investor, and incubation partner. She marries deep tech expertise (5G, edge, AI) with consumer applications (strong interest in AI apps). She loves to invest and empower product-driven founders building weird shit at the earliest stages.
In her free time, she writes about product management, private and public markets, responsible AI, behavioral science, and career pathing. Her writing has been featured in The Atlantic, New York Times, FastCompany, and Women 2.0. Bo is also a public speaker, covering topics such as creative thinking, designing products for behavioral change, millennial career paths, and why curiosity matters. She is passionate about inspiring people through her nontraditional career path and focusing on building a more inclusive future.
Listen on Spotify
Listen on Apple Podcasts
Listen on Google Podcasts
Website: Silicon Valley Bank
LinkedIn: linkedin.com/in/bo-ren-0ba2218/
Twitter: @Bosefina
Medium: https://medium.com/@Bosefina
Substack: https://bosefina.substack.com/
Show Notes
How Bo got her start in angel investing through advising
What pushed Bo to make her first investment
Bo's perspective on when to start investing
Shifting from an opportunistic approach to sourcing deals through a women's angel group
What key elements Bo looks for in the teams she invests in
Bo's value-adds as an investor and how she works with founders
The importance of matching a founder's needs with an investor's expertise and approach
How being a "nerd herder" benefits her portfolio companies
How being the child of immigrant parents affects how Bo invests
The double-edged sword of immigrant survivalist mentality
The value of resilience and the intersection of grit and ambition
Bo's thoughts on work-life balance and identity
Moving from the achievement mindset to the manifestation mindset
Bo's journey to joining Silicon Valley Bank and being at the epicenter of the innovation economy
More About the Show
The VITALIZE Podcast, a show by VITALIZE Venture Capital (a seed-stage venture capital firm and pre-seed 400+ member angel community open to everyone), dives deep into the world of startup investing and the future of work.
Hosted by Justin Gordon, the Director of Marketing at VITALIZE Venture Capital, The VITALIZE Podcast features interviews with a variety of VCs, angel investors, and founders, with a particular focus on the future of work.
Written by