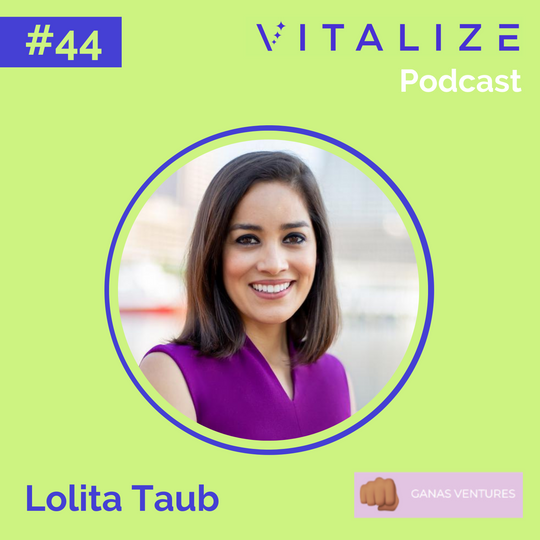 Podcast
Low Lift, High Impact: Changing the Investing Narrative, with Lolita Taub of Ganas Ventures | Startup Investing
Justin Gordon talks with Lolita Taub, GP at Ganas Ventures where she invests in pre-seed and seed community-driven companies in the US and Latin America.
Justin Gordon (@justingordon212) talks with Lolita Taub (@lolitataub), GP at Ganas Ventures where she invests in pre-seed and seed community-driven companies in the US and Latin America. She's on a mission to change the narrative about who's an investor, who we invest in, and the types of founders that build unicorns. With 15 years working within the Silicon Valley ecosystem, Lolita has accomplished $70M+ in sales and made 90+ investments as an angel investor, Scout at Lightspeed Venture Partners, and VC at Backstage Capital and The Community Fund. She is also a Co-Founder of proprietary matching tools Startup-Investor Matching Tool, the GP-LP Matching Tool, and the LaaS community which brings along a community of over 4K+ founders, funders, and ecosystem friends. Forbes and Inc Magazine have featured her as a woman promoting investment in underestimated founders and funders. She has a BA from the University of Southern California and an MBA from the IE Business School. Lolita is currently in LATAM, hunting for unicorns, and most importantly, she is a dog mom to the cutest Dachshund mix, Choco.
Listen on Spotify
Listen on Apple Podcasts
Listen on Google Podcasts
Website: Ganas Ventures
Lolita's Website: https://www.lolitataub.co/
LinkedIn: linkedin.com/in/lolitataub/
Twitter: @lolitataub
Lolita's Newsletter: https://lu.ma/lolitataub
Show Notes
Lolita's background and how she overcame barriers to entry in VC
What led her to start Ganas Ventures
Lolita's journey building community, leveraging her social capital, and expanding her services
Raising a fund and LP strategy for Ganas Ventures
How Lolita stays organized while maintaining a variety of initiatives
Job opportunities with Lolita and what she prioritizes in hiring
More About the Show
The VITALIZE Podcast, a show by VITALIZE Venture Capital (a seed-stage venture capital firm and pre-seed 400+ member angel community open to everyone), dives deep into the world of startup investing and the future of work.
Hosted by Justin Gordon, the Director of Marketing at VITALIZE Venture Capital, The VITALIZE Podcast features interviews with a variety of VCs, angel investors, and founders, with a particular focus on the future of work.
Written by