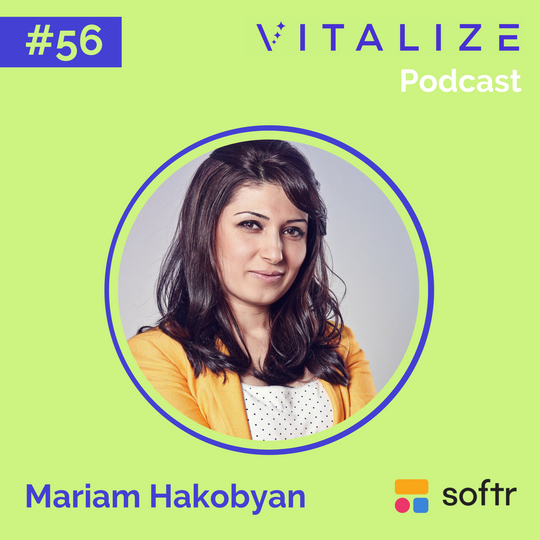 Podcast
Organic Growth Loops, Customer-Led Product Development, Raising a $13.5M Series A, and the No-Code Landscape, with Mariam Hakobyan of Softr
Justin Gordon talks with Mariam Hakobyan, Co-Founder and CEO of Softr, the easiest no-code platform for building custom apps and portals, in minutes.
Justin Gordon (@justingordon212) talks with Mariam Hakobyan (@mariam_hakobyan), Co-Founder and CEO of Softr, the easiest no-code platform for building custom apps and portals, in minutes. With Softr, you can build client portals, internal tools, marketplaces, online communities, resource directories, websites and more. They believe the world is missing out on some of the most creative minds, ideas and innovation (99.7% to be exact), and have set out to change that with Softr by democratizing software building so anyone can build businesses without tech skills.
Softr grew from 0 to 50K+ users in <1 year, with $0 marketing, all driven by WOM, virality and a passionate community. In January 2022, they closed their $13.5M Series A to build the largest ecosystem of no-code apps.
Mariam is an engineer turned entrepreneur, mother of two, and lover of all things technology, product & design. She built and led products & engineering teams for more than a decade, and is now making tech accessible to everyone by building the future of no-code.
Listen on Spotify
Listen on Apple Podcasts
Listen on Google Podcasts
Website: Softr
Slack: Softr Community
LinkedIn: linkedin.com/in/mariamhakobyan/
Twitter: @mariam_hakobyan
Show Notes
What is Softr?
Softr's origin story, their MVP, and how they've evolved
Deciding to price Softr higher than other website builders from the beginning
The timeline from idea generation to launching MVP
The journey to full-time for each Softr founder
Softr's Product Hunt launch and getting their first paying customers
Finding and leveraging a community of Twitter no-code enthusiasts
How they've maintained growth momentum post- Product Hunt
How they landed on Softr's growth strategy
Launching their mobile app and letting their customers guide their product development
The process of raising VC for Softr
How they screened for right-fit investors
The importance of empathy, trust, and conflict management skills in a co-founder relationship
Married co-founders: the value of setting clear role and responsibility boundaries and finding work-life balance
Mariam's view on the landscape of the no-code industry
The range of Softr's use-cases
More About the Show
The VITALIZE Podcast, a show by VITALIZE Venture Capital (a seed-stage venture capital firm and pre-seed 400+ member angel community open to everyone), dives deep into the world of startup investing and the future of work.
Hosted by Justin Gordon, the Director of Marketing at VITALIZE Venture Capital, The VITALIZE Podcast features interviews with a variety of VCs, angel investors, and founders, with a particular focus on the future of work.
Written by