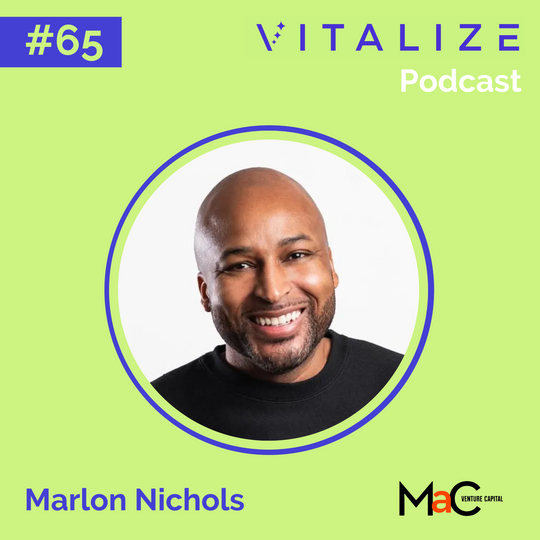 Podcast
Doubling Fund I to Raise a $203M Fund II, What Makes a Stellar Founder, and Why a Market Downturn is a Great Time to Invest in Startups, with Marlon Nichols of MaC Venture Capital
In episode 65, host Justin Gordon talks with Marlon Nichols, the founding managing partner at MaC Venture Capital, a seed-stage venture capital firm that invests in technology startups leveraging shifts in cultural trends and behaviors.
Justin Gordon (justingordon212) talks with Marlon Nichols (@MarlonCNichols), the founding managing partner at MaC Venture Capital, a seed-stage venture capital firm that invests in visionary founders building the future that the world wants to see, and helping entrepreneurs bring the future into focus to find their breakthrough moment.
MaC Venture Capital is the result of the merger between successful Los Angeles and Bay Area based Seed funds, Cross Culture Ventures and M Ventures. They are focused on finding ideas, technology, and products that can become infectious, investing in technology companies that benefit from shifts in cultural trends and behaviors in an increasingly diverse global marketplace. They recently raised their $203M Fund II.
Marlon is a Kauffman Fellow who also serves on the Board of Directors. Prior to MaC Venture Capital, Marlon was founder of Cross Culture Ventures and served as Investment Director at Intel Capital. Marlon has an extensive background in technology, private equity, media and entertainment. His unique eye for global and cultural trends, along with shifts in consumer behavior, has helped him uplift and accelerate entrepreneurs and companies that are on the verge of their breakthrough moment. Some of his current and previous portfolio companies include Blavity, Gimlet Media, LISNR, Mayvenn, MongoDB, PlayVS, Pipe, Thrive Market and Wonderschool, among others.
Marlon was recently honored as a member of the 2022 class of the LA500 list and as a top early stage investor on Insider's 2022 Seed 100 list. Additionally, he is the recipient of MVMT50's SXSW 2018 Innovator of the Year award, Digital Diversity's Innovation & Inclusion Change Agent award and was a TechWeek 100 winner. He was named Pitchbook's 25 Black Founders and VCs to Watch in 2018, 2019 and 2020, and one of Silicon Republic's 26 VC professionals spearheading change. Marlon has been featured on TechCrunch, Fortune, Cheddar, MSNBC, Blavity and NBC, and is adjunct faculty in entrepreneurship and venture capital at the SC Johnson College of Business at Cornell University.
Listen on Spotify
Listen on Apple Podcasts
Listen on Google Podcasts
---
Website: MaC Venture Capital
LinkedIn: linkedin.com/in/marloncnichols/
Twitter: @MarlonCNichols
Marlon on the Just Go Grind Podcast in March 2021: Episode #285 on JGG
Show Notes
What enabled MaC Venture Capital to double their first raise, closing a $203M Fund II
The value of a strong reserves strategy
MaC Venture Capital's investment in Pipe, which transforms recurring revenue into up-front capital for growth without dilution or restrictive debt
The story behind MaC Venture Capital's investment in Truebill, now Rocket Money (check out Co-Founder Haroon Mokhtarzada's episode on the Just Go Grind podcast)
What makes a stellar founder
How they ended up investing in Mahmee and what makes their founder Melissa Hanna such an investable founder
Where Marlon is excited to invest next
How Marlon educates himself on new geographies and markets
Written by