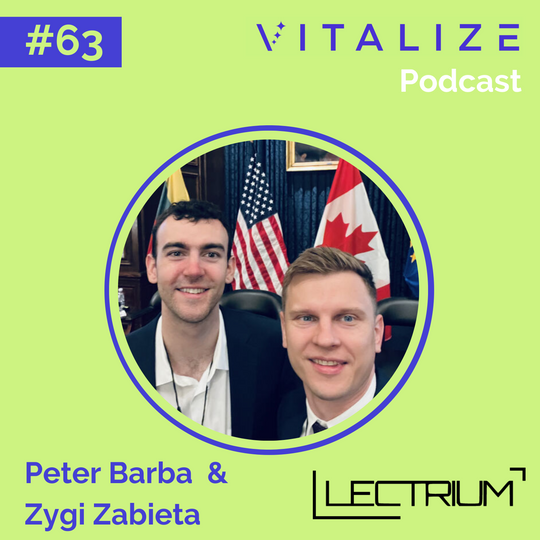 Podcast
Clicking as Co-Founders, From Bad Idea to Goldmine, and Becoming Market Leaders in EV Charging, with Peter Barba and Zygi Zabieta of Lectrium
Justin Gordon talks with Peter Barba and Zygimantas (Zygi) Zabieta, Co-Founders of Lectrium, a full-service platform for EV home charging o a mission to make every home EV-ready.
Justin Gordon (@justingordon212) talks with Peter Barba (@pbarba_22) and Zygimantas (Zygi) Zabieta (@zzabieta), Co-Founders of Lectrium, a full-service platform for EV home charging on a mission to make every home EV-ready. They make the home charging installation process easy through their network of EVITP certified electricians. At Lectrium, they believe that true carbon neutrality can be achieved only if the transition to EVs is frictionless, and their ambition is to standardize and reduce the cost of the installation process and remove financial barriers for EV adoption.
Peter Barba played Division 1 basketball in college and left his job in investment banking to attend Antler's disruptive startup builder in Oslo, Norway, where he met his co-founder. He is passionate about climate technology, electric vehicles, blockchain, and building businesses.
Zygi Zabieta loves innovation, EVs, blockchain, renewables, politics, and sustainable planning. He is also a public speaker, host & co-founder of Impact Meetups Vilnius, Community Champion for Nordics and Baltics at WEF Global Shapers, and got his Master of Science degree in Environmental Management & Policy at Lund University (IIIEE).
Listen on Spotify
Listen on Apple Podcasts
Listen on Google Podcasts
Website: Lectrium
LinkedIn: linkedin.com/in/peter-barba/ and linkedin.com/in/zabieta/
Twitter: @pbarba_22 and @zzabieta
Show Notes
How Lectrium is making U.S. homes EV-ready
Lectrium's origin story
How they ended up at the Antler accelerator
How Peter and Zygi met at Antler, bonded, and decided to work together
The evolution of Lectrium during the Antler program—how a bad idea became the goldmine
What customer discovery looked like for Lectrium
Getting their first paying customers
Lectrium's business model and customer acquisition
Bottom-up vs. top-down dealership acquisition strategies
How they're approaching growth in these early stages
How new U.S. public EV charging mandates could affect Lectrium
The argument for residential vs. public EV charging
The potential for partnering with auto-manufacturers directly
Onboarding electricians and their role in Lectrium's success
How they're approaching brand recognition and marketing, and startup showers as the new baby showers
How they're managing a distributed team across time zones
Their execution plan to succeed as market leaders in the next few years
More About the Show
The VITALIZE Podcast, a show by VITALIZE Venture Capital (a seed-stage venture capital firm and pre-seed 400+ member angel community open to everyone), dives deep into the world of startup investing and the future of work.
Hosted by Justin Gordon, the Director of Marketing at VITALIZE Venture Capital, The VITALIZE Podcast features interviews with a variety of VCs, angel investors, and founders, with a particular focus on the future of work.
Written by