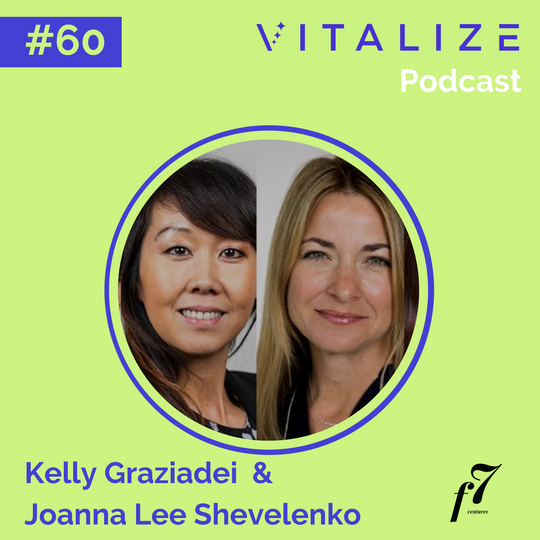 Podcast
Raising a $50M Fund to Elevate Diverse Founders, Impactful Fund Differentiation, and Co-Founder Value Alignment, with Kelly Graziadei and Joanna Lee Shevelenko of f7 Ventures
Justin Gordon talks with Kelly Graziadei and Joanna Lee Shevelenko, the founders and General Partners of f7 Ventures, a seed investment fund comprised of seven senior female operators who met at Facebook.
Justin Gordon (@justingordon212) talks with Kelly Graziadei (@kkgraz) and Joanna Lee Shevelenko, the founders and General Partners of f7 Ventures (@F7Ventures), a seed investment fund comprised of seven senior female operators who met at Facebook. With expertise in product, engineering, sales, marketing, partnerships, HR, and operations, they invest in and help bold founders grow and scale at their earliest stages. During their tenures at Facebook, Google, Yahoo and beyond, they managed and developed thousands of people across dozens of teams around the world. They grew and managed revenue from $0 to > $15B, scaled user growth to over a billion, launched over 30 new products globally, and led teams across almost every organizational discipline.
Kelly Graziadei brings 20 years of leadership experience in tech and consumer internet with companies ranging from 3 people to 200,000. She spent 7 1/2 years at Facebook in leadership positions in sales, product marketing and media. Kelly joined Facebook in 2010 and built and led its Mid-Market Sales & Account Management team in North America. She then led Facebook's Monetization Product Marketing for the Direct Response Ads & Commerce business globally, focused on inbound product strategy and global go-to market. Throughout her career, Kelly has driven dramatic scale, revenue growth and product development while establishing teams and cultures that help people perform at their full potential. In 2018, Kelly became a founding partner of F7.
Joanna Lee Shevelenko joined Facebook in 2006 as one of the first 100 employees. She built multiple teams 0-1 including content moderation, site integrity and user insights. Started the Facebook India office, worked on Facebook's first ecommerce effort, growth strategies, stealth mobile projects and top partnerships. After Facebook, she became the COO at Premise Data (series C) and COO of Atrium (series B). In addition to being a founding partner of F7, she's also the EIR at Social Capital and Board Director at mPharma.
Listen on Spotify
Listen on Apple Podcasts
Listen on Google Podcasts
Website: f7 Ventures
LinkedIn: linkedin.com/in/kellygraziadei/ & linkedin.com/in/joannaleeshevelenko/
Twitter: https://twitter.com/kkgraz
Email: hello@f7ventures.com
Show Notes
The journey of founding f7 Ventures
Deciding to go from angel investing to starting an institutional fund
The process of raising capital for f7 and fundraising as rejection exposure therapy
What differentiates f7 for LPs
Defining f7's mission, vision and values and how that constantly impacts their execution
Navigating co-founder dynamics: different skillsets and personalities but aligned values
f7's investment thesis and what ties together their three buckets
Their specific rubric for evaluating founders
Establishing accessibility and building trust with their founders and how they provide value to their portfolio companies
Their plan for future funds
Some of their biggest surprises and learnings since launching f7
How investing has changed from 2021 to 2022 with recent market shifts
The process of investing in CloudEagle
Their off-cycle investment in Done
What they're most excited about in the realm of Future of Work
More About the Show
The VITALIZE Podcast, a show by VITALIZE Venture Capital (a seed-stage venture capital firm and pre-seed 400+ member angel community open to everyone), dives deep into the world of startup investing and the future of work.
Hosted by Justin Gordon, the Director of Marketing at VITALIZE Venture Capital, The VITALIZE Podcast features interviews with a variety of VCs, angel investors, and founders, with a particular focus on the future of work.
Written by