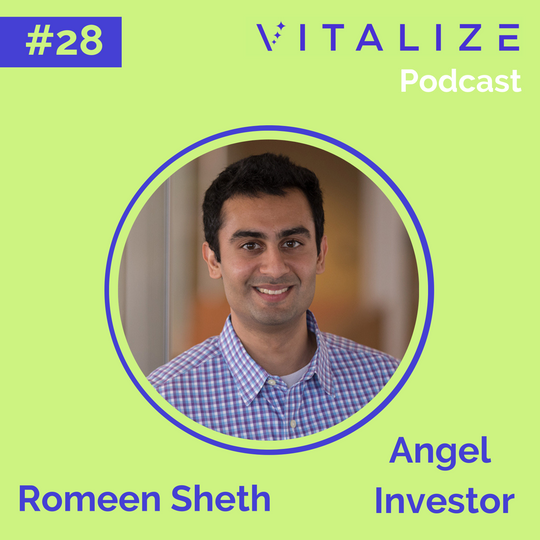 Podcast
Angel Investing: Romeen Sheth, on Growing and Connecting Authentically as an Operator, Investor, and Creator
Justin Gordon talks with Romeen Sheth, who runs $50M bootstrapped business Metasys Technologies, angel invests regularly, and hosts his own podcast, Square One.
Justin Gordon (@justingordon212) talks with Romeen Sheth (@RomeenSheth), who runs $50M bootstrapped business Metasys Technologies, angel invests regularly, and hosts his own podcast, Square One.
Romeen is the President of Metasys Technologies, a workforce management advisory firm based in Atlanta. Metasys partners with leading global organizations on the full lifecycle of their talent management strategy. They have been recognized by Inc. 5000 as one of the fastest growing private businesses in the country and work with over 50 leading global organizations today.
On his podcast, Square One: Conversations with the Best in Business, he unpacks the journey of founders, investors, and executives at the cutting edge of business. The conversations on the show dive deep into a variety of industries, business models, and the stories of how some of the most innovative companies of our time have been built.
Additionally, he is an increasingly active angel investor. In 2021, he made over 25 investments in companies such as Bolt and Slice.
Listen on Spotify
Listen on Apple Podcasts
Listen on Google Podcasts
LinkedIn: linkedin.com/in/romeen-sheth-07494427/
Twitter: @RomeenSheth
Show Notes
Why Romeen started his podcast, Square One
How he found success in podcasting before it was a popular industry
The impact podcasting has had on his career
Romeen's thoughts on Twitter as a tool for investors and founders
How he views adding value as a strategic angel
Romeen's authenticity approach to growth
The mental unlock that led Romeen to angel investing
Romeen's approach to building relationships
Creating an organic versus a transactional community
Why Romeen has become a more active angel investor over the last year
How Romeen allocates his funds
His approach to evaluating companies by looking at structural opportunities
Romeen's strategy for allocating his time as an operator, investor, and creator by viewing them as cohesive
More About the Show
The VITALIZE Podcast, a show by VITALIZE Venture Capital (a seed-stage venture capital firm and pre-seed 400+ member angel community open to everyone), dives deep into the world of startup investing and the future of work.
Hosted by Justin Gordon, the Director of Marketing at VITALIZE Venture Capital, The VITALIZE Podcast features interviews with a variety of VCs, angel investors, and founders, with a particular focus on the future of work.
Written by