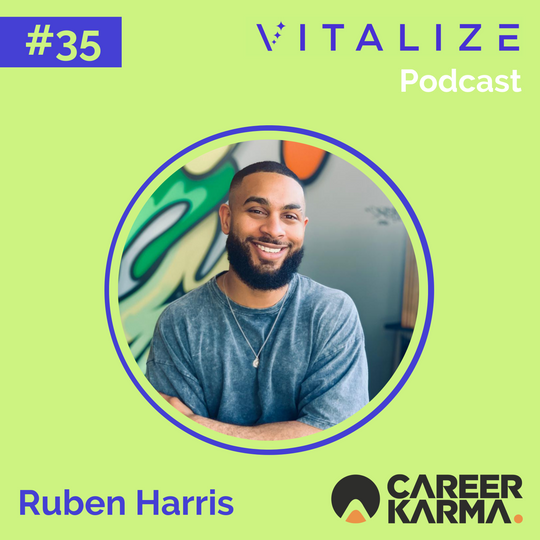 Podcast
Future of Work: Career Navigating, Community Building, and Personal Branding, with Ruben Harris of Career Karma
Justin Gordon talks with Ruben Harris, Co-Founder and CEO of Career Karma, which is helping over 1 million workers navigate their careers every month through advice and coaching.
Justin Gordon (@justingordon212) talks with Ruben Harris (@rubenharris), Co-Founder and CEO of Career Karma, which is helping over 1 million workers navigate their careers every month through advice and coaching. By offering free coaching and peer mentorship, Career Karma has grown to over 150,000 members from every background and profession. Through their directory of 9,000 bootcamps and trade schools, career switchers discover training programs by comparing courses and reading student reviews.
Ruben Harris is a Bay Area transplant from Atlanta, Georgia where he served as an Advisor for Forge and organized Atlanta's first Healthcare Hackathon. Over the past couple of years, Ruben has worked with academics, organizers, politicians, and union leaders at Hustle, Honor and AltSchool focused on improving their personalized outreach, healthcare and education.
Ruben began his technology career working in Partnerships and Sales and later Co-Founded the Breaking Into Startups Podcast to demystify the process, resulting in a social media reach of ~3 million people and invitations to be a Contributor for TechCrunch and Black Enterprise.
Prior to working in tech, Ruben worked as an Investment Banker. During college, Ruben organized 50+ events for non-profits, athletes, and celebrities including Tyrese, Kim Kardashian, and Jay-Z. Ruben has been playing the cello for ~25 years, taught music, performed in venues all over the world - including Carnegie Hall, and landed placements from Def Jam. He is also an active member of the NAACP.
Listen on Spotify
Listen on Apple Podcasts
Listen on Google Podcasts
Website: Career Karma
LinkedIn: linkedin.com/in/rubenharris
Twitter: @rubenharris
Instagram: instagram.com/rubenharris
Email: ruben@careerkarma.com
Show Notes
What Career Karma is and how they've expanded and evolved in recent years
How the student loan bubble and "the great resignation" have led Career Karma to work more closely with employers
Career Karma's secret sauce of community building
How social audio rooms have played a part in the growth of Career Karma
The Breaking into Startups podcast
Ruben's view on audio, communication, and community in the Future of Work and Learning
How Ruben has approached personal branding and taking control of your narrative
Relationship building on the internet
Ruben's advice for what employers and recruiters need to do differently to identify and develop talent
Education as an employee benefit
Ruben's perspective on juggling part time roles and the freelance economy
Career navigating as a social experience
Social capital and virtual currency
More About the Show
The VITALIZE Podcast, a show by VITALIZE Venture Capital (a seed-stage venture capital firm and pre-seed 400+ member angel community open to everyone), dives deep into the world of startup investing and the future of work.
Hosted by Justin Gordon, the Director of Marketing at VITALIZE Venture Capital, The VITALIZE Podcast features interviews with a variety of VCs, angel investors, and founders, with a particular focus on the future of work.
Written by