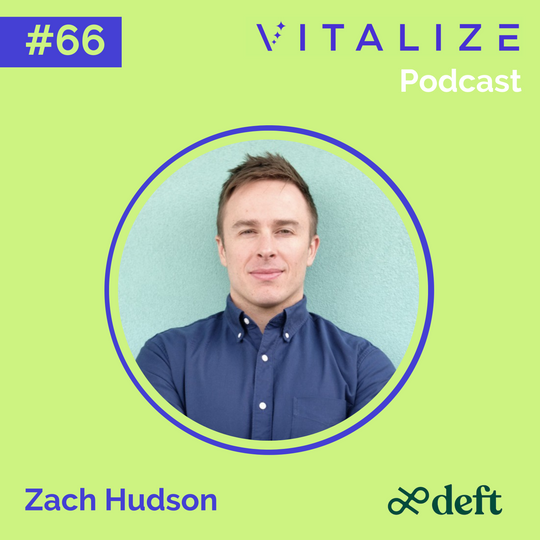 Podcast
Taking on Amazon by Changing Consumer Behavior, the Evolution of Customer Acquisition, and How to Vet Investors, with Zach Hudson of Deft
In episode 66, host Justin Gordon talks with Zach Hudson, co-founder of Deft, an ad-free, SEO-free search engine for e-commerce.
Justin Gordon (@justingordon212) talks with Zach Hudson (@nosduhz), co-founder of Deft, an ad-free, SEO-free search engine for e-commerce. A VITALIZE portfolio company, they are building the future of e-commerce search by enabling its users to find, research, and buy products all in one place.
Zach has 7+ years of experience in e-commerce and gaming technologies, and is a second-time founder. He is a product manager by trade, and a self-taught developer.
Listen on Spotify
Listen on Apple Podcasts
Listen on Google Podcasts
---
Website: Deft
Zach's LinkedIn: linkedin.com/in/hudsonzp/
Zach's Twitter: @nosduhz
Show Notes
How Deft is enabling trustworthy e-commerce searches
The evolution of Deft's product over the last 2 years (since their presentation to Tyler Cowen)
Zach's background and how he teamed up with co-founder Alex Gunnarson
Narrowing down their target and why they started in the furniture and home decor category
Early customer discovery and product development via their "Wizard of Oz" approach
How they drove early customer acquisition via organic communities
From non-scalable acquisition strategies to the diversification of channels
The challenges and complexities of indexing products
The evolution of Deft's business model
Determining where to establish a paywall for their product
Taking on Amazon and Google, and what differentiates Deft
How they vet investors
Establishing roles and responsibilities as co-founders
How being data driven fuels their growth
Which metrics they value most
Creating stickiness in their product
What's next for Deft
Developing a browser extension and making UX effortless

More About the Show
The VITALIZE Podcast, a show by VITALIZE Venture Capital (a seed-stage venture capital firm and pre-seed 400+ member angel community open to everyone), dives deep into the world of startup investing and the future of work.
Hosted by Justin Gordon, the Director of Marketing at VITALIZE Venture Capital, The VITALIZE Podcast features interviews with a variety of VCs, angel investors, and founders, with a particular focus on the future of work.
Written by